Guiding Our Clients Success
Otto Associates is a family-owned business that provides Professional Land Surveying, Civil Engineering and Land Planning services in Minnesota.  We believe our clients' success is our success.  We are committed to meeting the needs of our clients by working professionally, efficiently and cost effectively.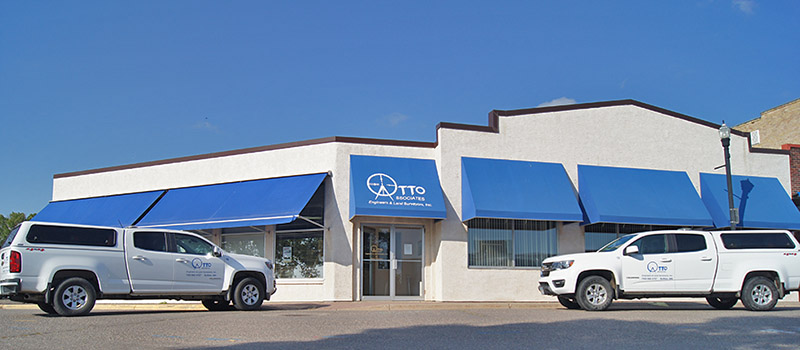 Otto provides a broad spectrum of services that allows us to take a project from concept to completion.  This includes guiding our clients through the municipal and agency review process, providing design to meet regulations and offering construction services such as staking and project management.
Otto Associates has completed thousands of land surveys and civil engineering projects throughout the State of Minnesota.  Over the years we have interacted with numerous Attorneys, Title Companies, Architects, Government Agencies, Contractors, Real Estate Professionals and other related associates to achieve our clients' goals.
Since 1980 – Otto Associates
Otto Associates was founded in 1980 by land surveyor Edward Otto and his wife, Wendy, as primarily a Land Surveying firm.  As Otto Associates continued to grow, they saw the need to add Civil Engineering to more seamlessly achieve their clients' objectives.
In 2008, Ed Otto was named Surveyor of the Year by the Minnesota Society of Professional Surveyors (MSPS).  He has given a substantial amount of his time to promoting the surveying profession and providing education to the general public.  He retired in 2011 and now spends his time hunting and fishing in Minnesota and wintering in Puerto Vallarta, Mexico.  He still likes to talk shop when the opportunity presents itself.
In 2009, Otto Associates appointed Paul Otto, P.L.S., P.E., as President and Cara Schwahn Otto, P.E., as Senior Vice President.  Under their leadership, the firm has continued its tradition of producing quality work with a personalized touch, while moving forward with a strong vision of providing innovative design, sophisticated technology and a relaxed accessibility to our clients.
Paul Otto, P.L.S., P.E – President
Paul learned his strong work ethic from his father and his business savviness from his mother, who was the office manager and CFO for 30 years.  Although he reminisces about his many summers as a teen on a survey crew, Paul found his stride in the office, computing difficult legal descriptions, assisting property owners with land planning and being the IT support for the company.  Paul received his Bachelor of Civil Engineering degree from the University of Minnesota and is dual-licensed as a Professional Engineer and Professional Land Surveyor. 
He puts miles on his running shoes each year and has completed 3 marathons.  Growing up on Buffalo Lake, Paul is an avid water skier and fisherman and now enjoys boating time with his 2 teen daughters and wife Cara.
Cara Schwahn Otto, P.E., – Senior Vice President
A lover of academics and all things math-related, Cara started down the path of Mathematics in college but ultimately found Civil Engineering to be a perfect fit.  She has been a registered Professional Engineer since 2000.  Being both a number cruncher and a people person, Cara uses those strengths in her design and project management.  She believes success is a result of building relationships with clients, regulatory staff and review agencies.  As a University of Minnesota alumna, she can be found chanting Ski-U-Mah at Gopher Football games. 
Cara approaches everything with an all-in attitude and her greatest joy is her family.  She supplements her left-minded brain with monthly book club, listening to music and cooking (with a side of wine).