Otto Associates has extensive experience in all types of land services. Otto utilizes AutoCAD, Civil 3D, Topcon Total Station Field Instruments, and GPS.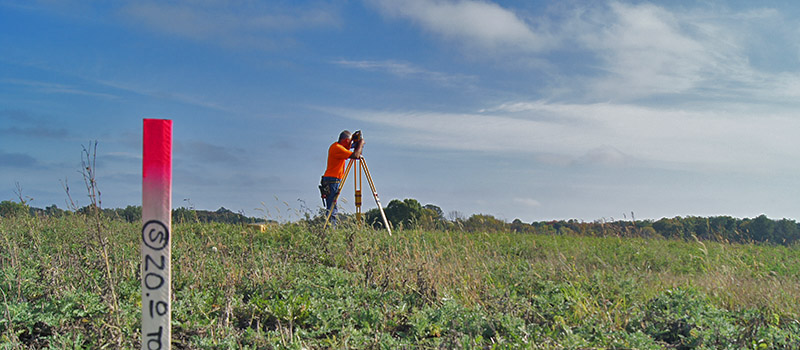 Land Surveying Services
We service property developers, attorneys, title companies, individual land owners and more.  Our focus is centered on you the client.  We have the expertise, experience, field crews and technology to meet all of your land surveying requirements.
ALTA/NSPS Land Title Surveys
This is a higher level survey with minimum standards agreed upon by the American Land Title Association (ALTA) and National Society of Professional Surveyors (NSPS).  This type of survey is often required in a commercial transaction by the lender or when title insurance is to be obtained.
Cemetery Mapping
Otto has worked with several cities, churches, and townships to field survey and update cemetery maps. We have also made lot corner monuments and field located them for cemetery plot marking.
FEMA LOMA & Elevation Certificates
If a property touches a flood plain, a FEMA Elevation Certificate or Letter of Map Amendment (LOMA) may be required.  Otto prepares two or three of these a month on average for clients.
Mining Plans, Volumetric Surveys
Otto has prepared numerous mining plans for county or city submittal.
Building Permit Surveys, As-Built Surveys
Aside from the traditional Building Permit Survey, Otto works closely with their clients by providing recommendations for building location and elevation along with site grading to best fit the property.  The surveys include detailed information for site grading and construction.  Otto will field verify and provide an As-Built Survey to confirm grading was completed per the plan.
Boundary Surveys, Legal Description Writing & Review
Land Surveyors call a boundary survey a Certificate of Survey.  This includes staking the corners of the property, locating occupation lines (fences, field lines, etc.) and buildings.  A drawing is prepared to depict these features along with the property dimensions, area, and legal description.  Otto has completed boundary surveys on all types and sizes of property.
Preliminary & Final Plats
Subdivision of land typically requires a Preliminary Plat and Final Plat.  Plats are approved through a public hearing process with the city or county.  Otto is well-versed in the platting process and has assisted numerous clients through approvals.
Topographic Surveys, Wetland Location
Topographic surveys map the elevations and visible features of the property.  This is prepared using field shots on the ground using a variety of equipment.