Construction projects require large investments of time and money. Having Otto Associates Construction Administration services for your construction project allows you the peace of mind that the needed details are being overseen by experienced staff.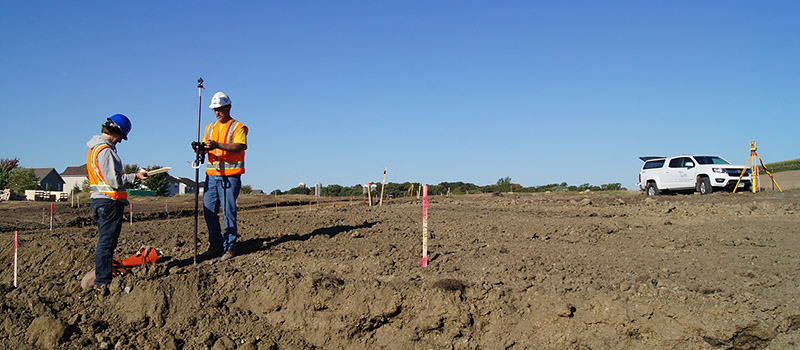 Construction Inspection
Otto staff provides construction observation for projects. This includes overseeing the contractor's work, tracking quantities, answering design questions, inspecting erosion and sediment control BMPs and providing communication between the developer, municipality and the contractor. Pay requests submitted by the contractor are reviewed and processed for recommendation of payment to the owner.
Construction Staking
Otto staff utilizes real-time GPS and Robotic Total Stations to provide staking for buildings, utilities, streets and other construction infrastructure.
Permit Application Preparation
Along with permitting assistance for Watershed District approval, we prepare applications for construction, including MPCA Sanitary Sewer Extension Permit, Dept of Health Watermain Permit, NPDES Construction Stormwater Permit, County and MnDOT permitting.
Construction Bid Letting & Contract Preparation
If requested, we assist our clients in preparing and sending out bid packages, analyzing bids and preparing contracts for execution between the owner and the contractor.
Prepare Record Plans/As-Builts
Survey field work is completed to verify that the work was completed in general conformance with the construction plans. Record plans are drafted to reflect the as-built location and elevation of utilities, grades or other elements as required by the Municipality.