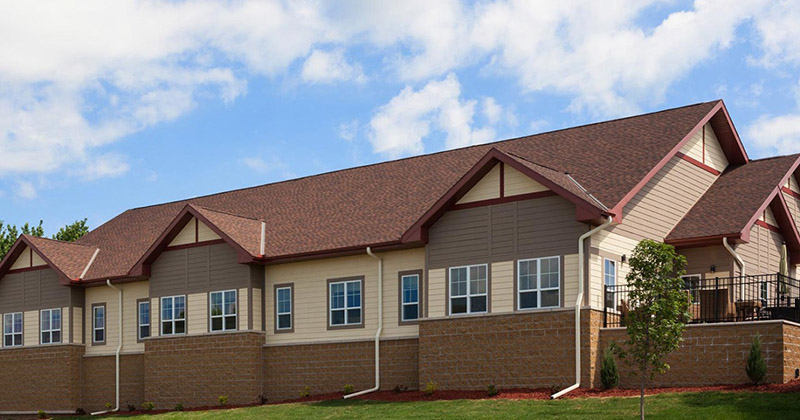 Otto Associates Celebrates Grand Opening of Lakeside Oasis Hospice Facility
Otto Associates is proud to have provided surveying and engineering services for the new Lakeside Oasis in Buffalo, MN. A portion of our services were donated to the project and it has been rewarding to see the hard work of all involved come to a successful completion.  Below is an article from the Wright County Journal Press.
By Doug Voerding
A place that offers comfort for the dying and for their families will now be available in Buffalo.  After five years of planning, fundraising and construction, Lakeside Oasis, a hospice, will open later this month.
An open house and special dedication was held Tuesday afternoon, July 8 at Lakeside Oasis, where five hospice suites face Sturges Park and Buffalo Lake.
The suites are designed for skilled hospice care, allowing families to join their loved ones as they all face the dying process.  Near the suites is a large common area with a full kitchen, a living room, a dining room, and a children's playroom.  Outside the living room is a sun deck.
A small chapel is across the hall from the suites.  The three stained glass windows in the chapel highlight the three stages of life – birth, living and dying.
The planning for the hospice was headed by the Community Health Foundation of Wright County (CHFWC) with its board of directors and its executive director Laura Jones.  During the fundraising years, CHFWC merged with Elim Care, Inc.
The organization worked five years to raise the $1 million needed for the project.  Buffalo Clinic was the major donor with its gift of $200,000.  More than 175 organizations and individuals donated more than $1,000 each.  And, according to Jones, thousands of smaller donations helped CHFWC reach the goal that insured the construction of the hospice.
The hospice will be managed by Elim Care and will be staffed with nurses 24-hours a day.  At the dedication, Dave Kiel, vice-president of fund development for Elim Care, presented Jones with a small retirement gift.  Said Jones, "Years of work and prayer and generosity has culminated in this beautiful place called Lakeside Oasis."